Posted by INFOS | Posted on 14-05-2010
| Posted in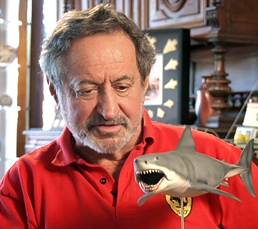 Même si Joe Alves a pris connaissance de l'existence de ce site, il n'a pas encore eu le temps de m' envoyer un petit message d'encouragement (ni de répondre à mes tonnes de questions). Pas grave… En attendant, profitons de ces quelques propos tirés d' une interview réalisée au début de l'année 2010 par Mike Smith du site Movie Mikes… De quoi entretenir de façon artificielle ce www.jaws-3d.com qui rassemble, soit dit en passant, pas loin d'une centaine de visiteurs par jour!!!
MS: As the director of "Jaws 3-D," was the original concept of the film to be presented in 3-D or was that developed later?
JA: I was in Japan working on a film called "The Ninja" for Zanuck/Brown. Marvin Davis bought 20th Century Fox studios, it was a Fox movie, and ended up canceling most of the films that hadn't started shooting. So I came back to Hollywood and Verna Fields (the Oscar-winning film editor of "Jaws," later an executive at Universal) called me and said, "you know, they're doing "Jaws 3″ and they're making a mess. They've got a dumb script and Zanuck/Brown don't want anything to do with it. I really think you should get involved. They've got a TV producer who bought the rights doing it." So I went to see Alan Landsburg and he asked if I wanted to produce it. I said no, I'd already done that. I directed 100 days of the 2nd unit on "Jaws 2″ and I'd be interested in directing it. He said he'd think about it and asked if I'd work with Richard Matheson, the writer, and see what develops. Richard and I were scouting theme parks because the film was written with a Sea World type theme park environment. And while we were at a park in Florida we saw an exhibit of underwater 3-D photography. And I just loved it, the depth of it. It really bothered me that we were doing a "3." There weren't really a lot of "3's" out there, maybe "Rocky III," people weren't as gracious to sequels at that time, which has really changed in recent years. Then it just hit me…JAWS…3…D. That would take the onus off of the "3." So I made a sketch of the shark coming at us and put "3-D" around it and he liked it and said to take the idea to Sid Sheinberg (the head of Universal at the time). Sid said "this is great, let me show it to Wasserman (Universal/MCA big man Lew Wasserman). So now Universal was very interested in the project. So now I'm going to direct it and I discover that there is no new 3-D equipment…nothing since "Bwana Devil" in the 1950s. So we had to make new cameras. So, no, it didn't start off as "Jaws 3-D."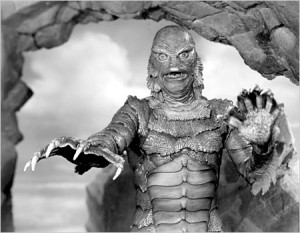 Au sujet de l'utilisation de la 3D, d'autres sources affirment que le projet aurait surtout été motivé par les bobines test du remake du Creature of the Black lagoon comme peut en témoigner cette interview de John Landis datant de 2005.
« I almost did a remake of The Creature from the Black Lagoon. This is a terrible story. I was going to produce it, Jack was going to direct it, we were going to shoot it in 3-D, Rick Baker was going to design the Creature. We had a very good script written by Nigel Kneale. I thought it should be in 3-D, and I started experimenting with all of the different 3-D processes – and the good one really is the Polaroid one. So, we shot a test with a Playboy Plamate – I think her name was Gig Gangel – in Steven Spielberg's swimming pool. And it was incredible! Naked girl swimming in Spielberg's pool, and we had a monster hand [reaching for her]. So, we show the test to Sid Scheinberg, who's running Universal at the time, and Sid got all excited. He said, "Oh, this is fantastic, but we shouldn't do this with the Creature, we should do it with… JAWS 3-D!!!" And that was the end of that; they made that piece of shit. And then they also used a different process! I sold him on the Polaroid because of how good it looked, but he used the cheaper, shitty [process]. »